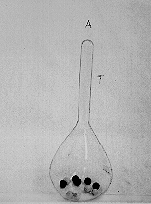 I6-61: MAXWELL DEMON
PURPOSE: Example of a "Maxwell Demon."
DESCRIPTION: A Maxwell demon is some gizmo which presumably allows you to do something which otherwise might be statistically unlikely. For example, the system photographed contains ten balls which are apparently identical except that five are white and five are black. If you rotate the device with the big end up you can separate the black and the white balls, and allow only one color of balls to fall into the neck. You act as the "Maxwell Demon."
SUGGESTIONS: Because this demonstration is nothing but a cheap trick, you must practice the wrist motion actually used to separate the balls.
REFERENCES: (PIRA unavailable.) See Demonstration Reference File for instruction sheet and papers discussing the "Maxwell demon."
EQUIPMENT: Maxwell demon demonstrator.
SETUP TIME: None.
---