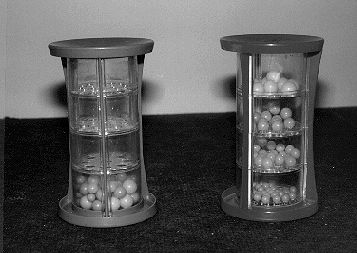 I6-51: ENTROPY - SORTING MARBLES
PURPOSE: To demonstrate that increasing the entropy requires less energy than decreasing the entropy.
DESCRIPTION: Shaking the system with the larger holes on the top causes the marbles to separate by size (yellow, green, pink, and blue). Simply inverting allows them to fall under the influence of gravity to their lowest level and mix. It apparently takes more energy to unmix the marbles than to mix them.
SUGGESTIONS:
REFERENCES: (PIRA unavailable.)
EQUIPMENT: Marble sorting gizzit with four sizes of marbles.
SETUP TIME: None.
---