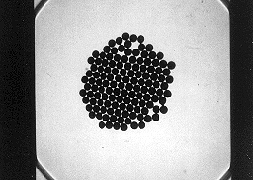 I6-41: MOLECULAR MOTION DEMO - LIQUIDS
PURPOSE: To model the behavior of liquids.
DESCRIPTION: Using the arrangement of balls from the liquid (Demonstation I6-40), the vibration speed is further increased. The balls remain in a small clump, with a few "boiling off" but most free to migrate within the tight clump, representing molecular motion within the liquid state. Use of a Variac operating at 140 VAC makes this effect more clear.
SUGGESTIONS:
REFERENCES: (PIRA 4D30.00) See Demonstration Reference File for manual.
EQUIPMENT: E.M.E. Molecular Motion Demonstrator with accessories as pictured, 140 Volt Variac.
SETUP TIME: None.
---