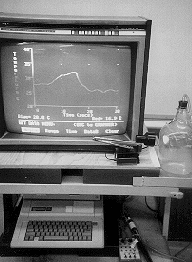 I5-13: ADIABATIC EXPANSION OF AIR - GRAPH OF TEMP
PURPOSE: To demonstrate adiabatic expansion of air by plotting the temperature.
DESCRIPTION: A tightly corked bottle containing air with a small amount of water is pressurized using a bicycle tire pump. When the cork pops the air expands adiabatically, cooling sufficiently to form fog in the bottle. The computer plots a graph of the air temperature in the jar using a thermistor probe. As air is pumped into the jar the temperature slowly rises; when the cork blows the temperature suddenly falls to below its initial level. The graph can be displayed on video projectors in the lecture hall.
SUGGESTIONS:
REFERENCES: (PIRA 4B70.25) See also demonstration I5-12: ADIABATIC EXPANSION OF AIR - FOG IN BOTTLE.
EQUIPMENT: Fog jar with thermistor mounted inside and bicycle pump, computer.
SETUP TIME: 5 min.
---