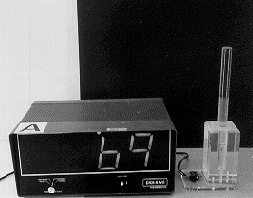 I5-11: ADIABATIC PROCESS - AIR PISTON WITH THERMISTOR
PURPOSE: To demonstrate adiabatic compression and expansion of air.
DESCRIPTION: A thermister is enclosed in a small cylinder of air, the volume of which can be rapidly changed by moving a piston up and down. Pushing the piston down compresses the air, the air heats and the temperature increases, producing an increase in the resistance of the thermistor. Pulling the piston up expands the air adiabatically, the air cools and the temperature decreases, producing a decrease in the resistance of the thermistor. The thermistor is identical to those used with the commercial digital thermometer, and can be connected directly to the display.
SUGGESTIONS:
REFERENCES: (PIRA 4B70.30)
EQUIPMENT: Air piston with Pope Scientific digital thermometer.
SETUP TIME: None.
---