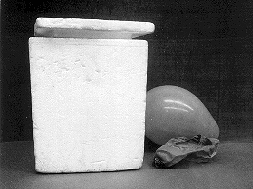 I4-52: CARBON DIOXIDE BALLOON ON LIQUID NITROGEN
PURPOSE: To demonstrate condensation sublimation.
DESCRIPTION: A balloon filled with carbon dioxide gas is held on top of a liquid nitrogen bath. The volume of the balloon decreases for two reasons: (1) the volume of the gas shrinks according to Charles' law, and (2) the boiling point of carbon dioxide is well above that of nitrogen, so the carbon dioxide condenses, forming dry ice powder. The small granules of dry ice, which can be easily seen in the deflated balloon, disappear as the balloon warms up and inflates once again.
SUGGESTIONS:
REFERENCES: (PIRA 4C40.15)
EQUIPMENT: Carbon dioxide balloon and styrofoam bucket of liquid nitrogen.
SETUP TIME: 10 min. (Dry ice for balloon must be obtained from Chemistry.)
---