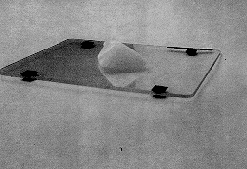 I4-51: SUBLIMATION OF DRY ICE - PROJECTION
PURPOSE: To demonstrate sublimation of carbon dioxide (dry ice) from a solid into a gas.
DESCRIPTION: Place a chunk of dry ice on the plastic sheet, on an overhead projector if desired. As the dry ice evaporates (evaporation sublimation) it becomes smaller but leaves no residue.
SUGGESTIONS:
REFERENCES: (PIRA 4C40.10)
EQUIPMENT: Chunk of dry ice on plastic sheet.
SETUP TIME: 10 min. (Dry ice must be obtained from Chemistry.)
---