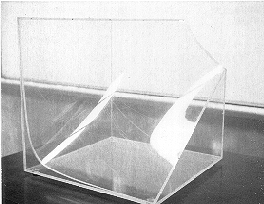 I4-02: PVT SURFACE - TRANSPARENT
PURPOSE: To illustrate aspects of phase transitions.
DESCRIPTION: This is a "generic" phase diagram on which the instructor can write details using various colors of felt tip pens. Projections can easily be seen, and the overall geometry can be observed because the model is transparent.
SUGGESTIONS:
REFERENCES: (PIRA 4C10.30)
EQUIPMENT: Large (25 inch cube) transparent PVT model with felt tip pens.
SETUP TIME: None.
---