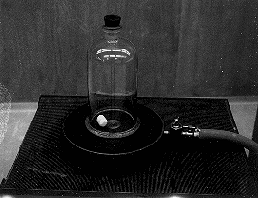 I3-42: BOYLED MARSHMALLOWS
PURPOSE: Amusing demonstration of Boyle's Law.
DESCRIPTION: A marshmallow is placed in a bell jar. As the air is pumped out of the jar the pressure inside becomes smaller and the little bubbles of air in the marshmallow increase in size, inflating the marshmallow. Eventually much of the air originally in the marshmallow is pumped aaway. When the air is let back in, atmospheric pressure compresses the marshmallow to a small fraction of its original size.
SUGGESTIONS: BRING YOUR OWN MARSHMALLOWS! Do not place the marshmallow near the pump inlet.
REFERENCES: (PIRA unavailable.) This is done on the infamous film loop "Boyled Marshmallows."
EQUIPMENT: Vacuum pump with bell jar, marshmallows.
SETUP TIME: None.
---