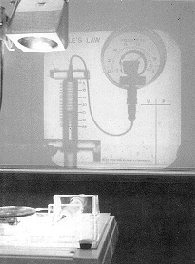 I3-41: BOYLE'S LAW - PROJECTION
PURPOSE: To demonstrate Boyle's law.
DESCRIPTION: Connect the piston tube to the pressure gauge. Read off several values of pressure and volume for different piston positions to show that PV=constant.
SUGGESTIONS: Plot a graph of P vs V to show that the curve is a hyperbola.
REFERENCES: (PIRA 4E20.20)
EQUIPMENT: Commercial Boyle's Law apparatus on overhead projector.
SETUP TIME: None.
---