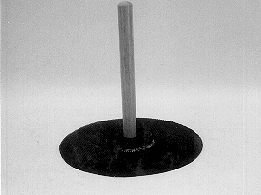 I3-19: LIFTING USING ATMOSPHERIC PRESSURE
PURPOSE: To dramatically demonstrate an effect of air pressure.
DESCRIPTION: A flat piece of rubber on a wooden handle is held in contact with some horizontal object like a flat chair bottom or small cart top. Pulling upward on the handle allows you to lift the object, due to the ability of atmospheric air pressure to hold the rubber sheet in contact with the surface.
SUGGESTIONS:
REFERENCES: (PIRA 2B30.50)
EQUIPMENT: Round rubber sheet with handle, chair or other object to be lifted.
SETUP TIME: None.
---