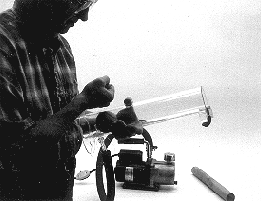 I3-18: VACUUM BAZOOKA
PURPOSE: To illustrate one effect of atmospheric pressure and force.
DESCRIPTION: A tennis ball is positioned near one end of an evacuated tube. When the plate sealing that end of the tube is rapidly knocked off, air at atmospheric pressure enters the tube. The ball is propelled by the force arising from the atmospheric pressure of air to create a bazooka effect along with a loud noise.
SUGGESTIONS: It goes FAST! Take care where you aim the bazooka. Support the tube with your hand back far enough so that the front flap doesn't hit your hand.
REFERENCES: (PIRA 2B30.70)
EQUIPMENT: Vacuum bazooka with tennis ball, small vacuum pump.
SETUP TIME: None.
---