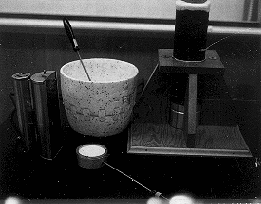 I1-53: FLORESENCE AT LN TEMPERATURE
PURPOSE: To demonstrate fluorescence of a normal material at LN temperature.
DESCRIPTION: The material does not fluoresce at room temperature. When cooled to the temperatureof liquid nitrogen it will fluoresce when illuminated with ultraviolet light.
SUGGESTIONS:
REFERENCES: (PIRA unavailable.)
EQUIPMENT: Dewar with liquid nitrogen, fluorescent material, black light.
SETUP TIME: 5 min.
---