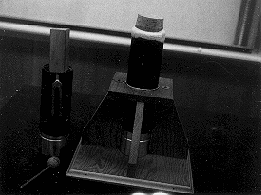 I1-52: TUNING FORK AT LIQUID NITROGEN TEMPERATURE
PURPOSE: To demonstrate the change in frequency of a tuning fork at liquid nitrogen temperature.
DESCRIPTION: Cool down one of the two identical tuning forks in liquid nitrogen. When it is cooled, beats are observed between identical tuning forks, one of which has been cooled.
SUGGESTIONS:
REFERENCES: (PIRA unavailable.)
EQUIPMENT: Two identical tuning forks with hammer, liquid nitrogen.
SETUP TIME: 5 min.
---