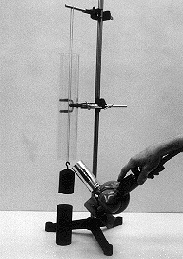 I1-32: RUBBER BAND CONTRACTION DURING HEATING
PURPOSE: To demonstrate that rubber contracts when heated.
DESCRIPTION: A 500 gram mass hangs from a rubber band which is connected to a rigid support. Using the heat gun, apply heat to the entire length of the rubber band, causing it to contract and pull up the weight.
SUGGESTIONS:
REFERENCES: (PIRA 4A30.80)
EQUIPMENT: Long rubber band (in refrigerator), 500g mass, stand, and heat gun.
SETUP TIME: None.
---