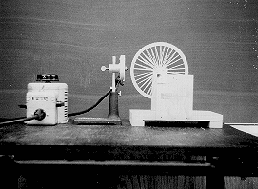 I1-31: RUBBER BAND ENGINE
PURPOSE: To demonstrate the Feynman rubber band engine.
DESCRIPTION: Rubber bands form the spokes of a well-balanced wheel. When heated, the rubber bands contract, moving the center of mass of the wheel so that it is out of balance, causing the wheel to rotate.
SUGGESTIONS:
REFERENCES: (PIRA 4F30.70) See Demonstration Reference File for further information.
EQUIPMENT: Rubber band engine (rotor in refrigerator), variac and heater.
SETUP TIME: None.
---