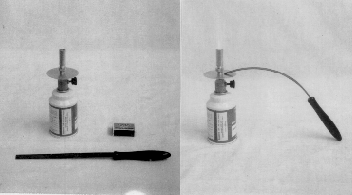 I1-13: THERMAL EXPANSION - BIMETAL STRIP
PURPOSE: To demonstrate differential thermal expansion.
DESCRIPTION: Strips of invar steel and brass are welded together to form a bimetal strip. Because their coefficients of thermal expansion are different, heating the bimetal strip over a burner results in bending, as illustrated. This type of material is used in some types of thermostatic controllers.
SUGGESTIONS:
REFERENCES: (PIRA 4A30.10)
EQUIPMENT: Bimetal strip with burner.
SETUP TIME: None.
---