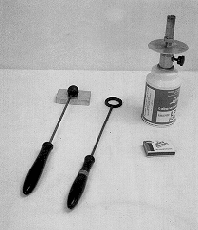 I1-12: THERMAL EXPANSION - BALL AND RING
PURPOSE: To demonstrate thermal expansion.
DESCRIPTION: When both ball and ring are at room temperature, the ball fits through the ring. If only the ball is heated, it expands so that it will not fit through the ring.
SUGGESTIONS:
REFERENCES: (PIRA 4A30.20)
EQUIPMENT: Ball and ring on handles with burner.
SETUP TIME: None.
---