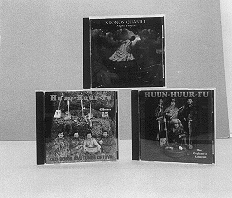 H6-13: COMPACT DISC - HUUN-HUUR-TU
PURPOSE: To illustrate manipulation of vocal formants and harmonics in the voice.
DESCRIPTION: Male voices sing various notes while manipulating their vocal tract to obtain emphasis on different harmonics of the fundamental note being sung. This very unusual music consists of a type of throat singing developed in Tuva, the f ormer Soviet territory, now an independent country in central Asia.
Three CDs are available, including one recorded jointly with the Kronos String Quartet. Selections on another disc include the old favorite, "60 Horses in my Herd."
SUGGESTIONS:
REFERENCES: (PIRA unavailable.) See Demonstration Reference File for further information, including materials in booklets accompanying the CD's. Richard Feynman took a great deal of interest in Tuva and in this type of singing, and there is a nice section on Tuvan throat singing called "Khoomei - How To's and Why's" by Michael Emory on the Friends of Tuva web site: http://www.feynman.com/tuva.
EQUIPMENT: CD and player.
SETUP TIME: None.
---