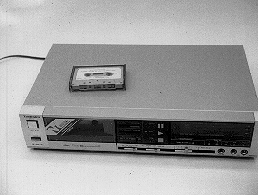 H5-42: AUDIOTAPE 24 MIN - GETTING THROUGH
PURPOSE: To demonstrate some hearing defects common to hearing impaired individuals, and to illustrate how these defects can be partially corrected using a hearing aid.
DESCRIPTION: Several types of hearing loss are illustrated on this tape and the effects of each problem are briefly discussed. Correction of the problem by a hearing aid is then illustrated, along with basic limits to electronic compensation. This tape gives the listener a good idea of the problems associated with several types of hearing loss.
SUGGESTIONS:
REFERENCES: (PIRA unavailable.) See Demonstration Reference File for further information regarding this tape and its contents.
EQUIPMENT: Cassette tape and player.
SETUP TIME: None.
---