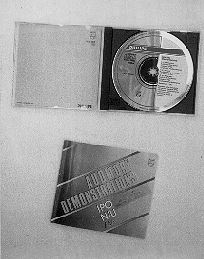 H5-41: COMPACT DISC - AUDITORY DEMONSTRATIONS
PURPOSE: Provides a wide variety of auditory demonstrations and illusions, monaural and binaural.
DESCRIPTION: This CD has excellent content and is of the highest technical quality. Included are: (I) Frequency Analysis and Critical Bands, (II) Sound Pressure, Power, and Loudness, (III) Masking, (IV) Pitch, A. Pitch of Pure Tones, B. Pitch of Complex Tones, C. Repetition Pitch, D. Pitch Paradox, (V) Timbre, (VI) Beats, Combination Tones, Distortion, Echoes, (VII) Binaural Effects.
SUGGESTIONS:
REFERENCES: (PIRA unavailable.) See Demonstration Reference File for copy of booklet, which also is delivered with the disc.
EQUIPMENT: Compact Disc with player.
SETUP TIME: None.
---