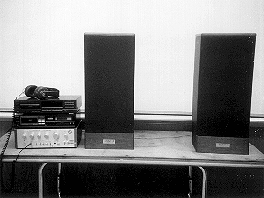 H4-81: AUDIO CART - COMPLETE AUDIO SYSTEM
PURPOSE: Show the various components of a reasonably modern audio system.
DESCRIPTION: This audio cart is a permanent Lecture-Demonstration setup consisting of : (1) a 60 Watt per channel integrated audio amplifier, an audiocassette deck, a compact disc player, and a pair of Large Advent loudspeakers.
Use it to show what these components look like, or obtain some of our vast library of recordings to play, and illustrate what it sounds like. Play a recording of Tuvan throat singers and really baffle them. A number of standard demonstrations make use of this audio cart systen.
SUGGESTIONS:
REFERENCES: (PIRA 3E20.00)
EQUIPMENT: Audio system as described above on rolling table.
SETUP TIME: None.
---