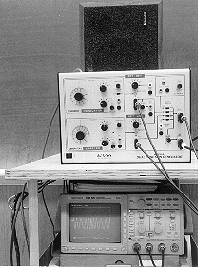 H4-51: MODULATION - AM AND FM
PURPOSE: To demonstrate AM and FM signal modulation as an introduction to vibrato and tremolo.
DESCRIPTION: The Pasco Dual Function Generator is used to produce either amplitude modulation or frequency modulation using various combinations of sine, triangular, and square waves. Frequency modulation is pure vibrato and amplitude modulation is pure tremolo; actual vocal vibrato is a combination of pure vibrato and pure tremolo.
SUGGESTIONS:
REFERENCES: (PIRA unavailable.)
EQUIPMENT: Dual function generator with loudspeaker and oscilloscope on scope/TV cart.
SETUP TIME: 5 min.
---