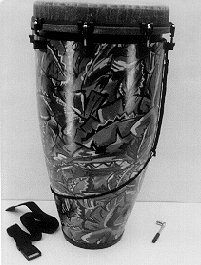 H4-41: DRUM
PURPOSE: Demonstrate a pretty drum.
DESCRIPTION: This is an Ashiko drum, apparently similar to that pictured with Feynman. Unfortunately or fortunately, as the case may be, this one has a synthetic head.
This drumhead is nicely tuned to its resonant cavity. For comparison, we have a beat-up steam-damaged older drum with a compromised resonant cavity, so it does not have as nice a tone.
SUGGESTIONS:
REFERENCES: (PIRA unavailable.)
EQUIPMENT: Ashiko drum.
SETUP TIME: None.
---