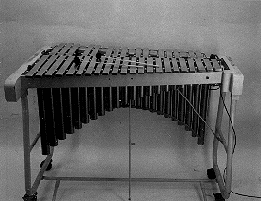 H4-32: VIBRAPHONE
PURPOSE: To illustrate how a vibraphone works.
DESCRIPTION: The vibraphone is an example of transverse standing waves in a bar. Tuning of the bar can be seen by looking at the undersurface. The function of the resonator can be discussed, and the vibration of the sound due to the rotating motorized baffles in the resonator tubes demonstrated.
SUGGESTIONS:
REFERENCES: (PIRA 3D40.10)
EQUIPMENT: Vibraphone with mallets.
SETUP TIME: None.
---