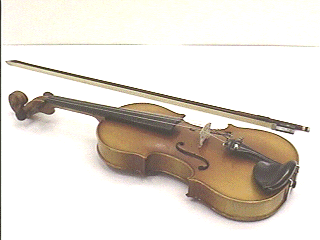 H4-31: VIOLIN
PURPOSE: To demonstrate some acoustical features of the violin.
DESCRIPTION: Use for show or to play, as desired. Path of vibrations from the string through the bridge, back and belly of the instrument to the air can be discussed. The soundpost and its function can be described. The overtone series can be demonstrated by touching the string at 1/2, 1/3, 1/4, 1/5, 1/6, etc. of the distance from one end while gently bowing.
SUGGESTIONS:
REFERENCES: (PIRA 3D22.10)
EQUIPMENT: Scratchavarious violin with bow and rosin.
SETUP TIME: None.
---