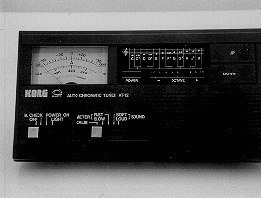 H4-16: TUNER - KORG
PURPOSE: To demonstrate use of an electronic tuner.
DESCRIPTION: The tuner can be used to produce notes in tune in the equal tempered scale or to compare the frequency of notes from an external source with a standard stored in the instrument. It displays errors on an analog meter.
SUGGESTIONS:
REFERENCES: (PIRA unavailable.) See Demonstration Reference File for instruction manual.
EQUIPMENT: Korg electronic tuner.
SETUP TIME: None.
---