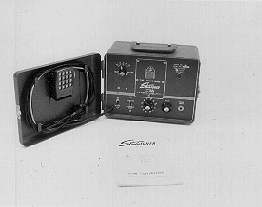 H4-15: TUNER - STROBE TYPE
PURPOSE: To demonstrate how a stroboscopic tuner works.
DESCRIPTION: Using stroboscopic effects, the frequency of a note played into the microphone is compared with an internal standard set to the equal tempered scale. A strobed wheel appears to rotate when the two frequencies are different, and stops when they become identical. The level of the entire scale can be adjusted up or down, and each note in the scale is switched into use individually. This type of device is used by some piano tuners, and may be used to help members of a band or orchestra to establish their pitch level.
SUGGESTIONS:
REFERENCES: (PIRA unavailable.) See Demonstration Reference File for instruction booklet.
EQUIPMENT: Strobotuner with accessory microphone.
SETUP TIME: None.
---