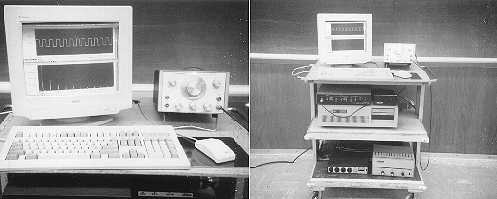 H4-02: FOURIER ANALYSIS - WAVE SHAPE AND SPECTRUM
PURPOSE: To simultaneously show the wave shape and the Fourier spectrum of complex waves.
DESCRIPTION: To simultaneously show the wave shape and Fourier spectrum of any type of periodic complex wave we use a Rapid Systems two-trace digital scope with FFT board in a PC 486 type computer. Instructions are presented with the computer, which may be rolled to classrooms and lecture halls. The video can be displayed for large groups using an active matrix video projector in classrooms or a rear screen video projector in the large lecture halls.
Typical waves used with this apparatus include (1) sine, triangle, sawtooth, square waves and others from our Wavetek generators, (2) complex waves synthesized using our Fourier Synthesizer, (3) sounds from musical instruments, and (4) the voice, singing various vowel sounds at various pitches, among others.
SUGGESTIONS: This is an extremely effective and easy-to-use device.
REFERENCES: (PIRA 3C50.00)
EQUIPMENT: PC 486 with Rapid Systems dual trace digital oscilloscope and FFT board, with Wavetek wave generator; other sound or wave sources as requested.
SETUP TIME: None.
---