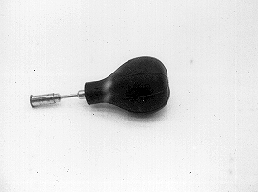 H3-25: GALTON'S WHISTLE
PURPOSE: To produce high-frequency tones.
DESCRIPTION: This device consists of a very short tube which can be activated by blowing air past an edge using the bulb. The tube is calibrated, and can produce both high-frequency audible pitches and ultrasonic frequencies.
SUGGESTIONS:
REFERENCES: (PIRA 3C20.15)
EQUIPMENT: Galton's Whistle.
SETUP TIME: None.
---