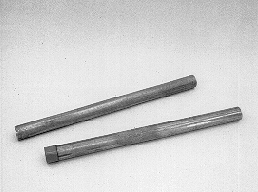 H3-24: OPEN AND CLOSED PIPES
PURPOSE: To demonstrate open and closed tube standing wave resonances.
DESCRIPTION: Blow across the open end of the open and closed tubes. The frequency of the closed tube is approximately half that of the open tube, or about one octave lower. Actually, due to the end correction, which applies to the open end of the closed tube but both ends of the open tube, the frequency ratio is slightly less than one octave to the trained musical ear.
SUGGESTIONS:
REFERENCES: (PIRA 3D30.20)
EQUIPMENT: Two identical tubes, one with an end cap.
SETUP TIME: None.
---