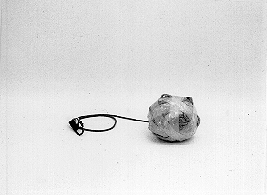 H2-41: DOPPLER BALL
PURPOSE: To demonstrate the Doppler effect.
DESCRIPTION: A ball with a 3000 Hz whistle inside is hooked to the end of a cord and whirled about the instructor's head or thrown from person to person. The Doppler effect can easily be heard throughout even a large room.
SUGGESTIONS:
REFERENCES: (PIRA 3B40.10) A softer alternative is H2-42: DOPPLER EFFECT - TUNING FORK ON STRING.
EQUIPMENT: Doppler ball on string.
SETUP TIME: None.
---