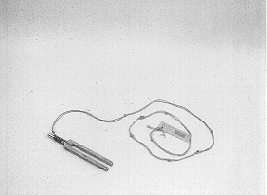 H2-42: DOPPLER EFFECT - TUNING FORK ON STRING
PURPOSE: To demonstrate the Doppler effect.
DESCRIPTION: A tuning fork is struck to activate the "clang tone" and whirled about the instructor's head on a string. The Doppler effect can easily be heard in a small classroom or a reasonably quiet lecture hall.
SUGGESTIONS:
REFERENCES: (PIRA unavailable.) See demonstration H2-41: DOPPLER BALL for a louder demonstration.
EQUIPMENT: Doppler tuning fork on string.
SETUP TIME: None.
---