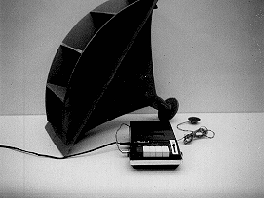 H2-33: SPEAKER AND EXPONENTIAL HORN
PURPOSE: To demonstrate the effect of an exponential horn enclosure.
DESCRIPTION: A small loudspeaker is held up behind the opening of an exponential horn. The sound becomes much louder, especially in the bass. A horn enclosure has the effect of taking an extended source such as a loudspeaker and creating the best impedance match with the outside world, providing the most coherent plane wave.
SUGGESTIONS:
REFERENCES: (PIRA 3B25.35)
EQUIPMENT: Audiocassette deck with cassette, horn.
SETUP TIME: None.
---