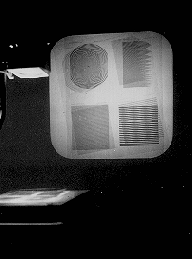 G4-32: MOIRE PATTERNS - COLOR
PURPOSE: To show color "interference" effects.
DESCRIPTION: Pattern transparencies of different color and physical character can be combined in various ways to obtain a variety of exotic effects. Try it!
SUGGESTIONS:
REFERENCES: (PIRA 3B50.40) See Demonstration Reference File for descriptive literature from the source.
EQUIPMENT: Colored Moire patterns, overhead projector.
SETUP TIME: None.
---