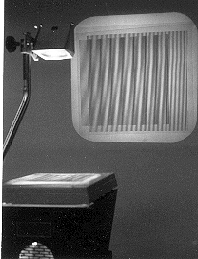 G4-33: GROUP VELOCITY - TRANSPARENCIES
PURPOSE: To demonstrate the relationship between the wave velocity and the group velocity.
DESCRIPTION: A set of two 8"x11" transparencies with closely-spaced parallel lines, are slowly slid across each other. One has a spacing about ten percent smaller than the other, so the difference in spacing creates a moire interference pattern. Wave groups move rapidly across the picture while the wave velocity (motion of the transparency) is much smaller.
SUGGESTIONS:
REFERENCES: (PIRA 3B33.20)
EQUIPMENT: Transparencies, overhead projector.
SETUP TIME: None.
---