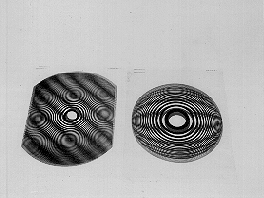 G4-31: MOIRE PATTERNS
PURPOSE: To show a type of interference pattern.
DESCRIPTION: Various sets of matched patterns can be positioned on the overhead projector such that they create interference patterns, as in the sets illustrated above. Some of them actually have some meaning in physics. All of them are sort of fun and give the student a chance to figure out how these things work.
SUGGESTIONS:
REFERENCES: (PIRA 3B50.40)
EQUIPMENT: Moire patterns.
SETUP TIME: None.
---