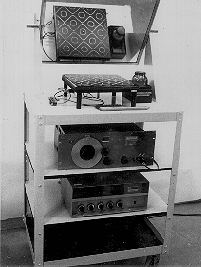 G4-22: CHLADNI FIGURES - OSCILLATOR DRIVEN
PURPOSE: To show two-dimensional standing waves in a metal plate.
DESCRIPTION: Magnetostriction in a thin-walled annealed nickel tube is used to drive various Chladni plates. The nickel tube is threaded into the center of the plate, and inserted through a coil under the plate, which rests on a thick felt surface. An oscillator in the 10-30 kHz frequency range drives a 20-Watt audio amplifier to provide the current creating the magnetic field. Sand sprinkled onto the plate moves to the nodal lines, defining the standing wave pattern. The field is biased by a small horseshoe magnet to avoid frequency doubling in the tube. A mirror allows larger groups to view the plate easily. Square, circular, violin-shaped and necktie-shaped plates are available. This experiment is very dramatic yet very simple to operate.
SUGGESTIONS:
REFERENCES: (PIRA 3D40.30) See also demonstration G4-21: CHLADNI FIGURES - BOWED, and the film loop "Chladni Plates - Standing Wave Patterns." See Demonstration Reference File for details of construction and for other literature on Chladni plates.
EQUIPMENT: Pre-assembled arrangement on cart, as photographed.
SETUP TIME: None.
---