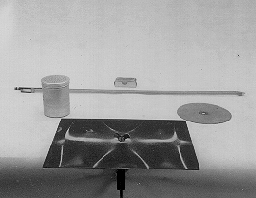 G4-21: CHLADNI FIGURES - BOWED
PURPOSE: To show two-dimensional standing waves in a metal plate.
DESCRIPTION: Sand is sprinkled onto a circular or square thin metal plate, which is then stroked along the edge using a violin bow. The salt moves to nodal lines of the standing wave pattern. Stroking at one point while holding your finger at another point to forces a node at that point, if desired, creating a variety of standing wave patterns.
SUGGESTIONS: Practice bowing technique.
REFERENCES: (PIRA 3D40.30) See also demonstration G4-22: CHLADNI FIGURES - OSCILLATOR DRIVEN, and the film loop "Chladni Plates - Standing Wave Patterns."
EQUIPMENT: Plates with holding clamp, bow and sea sand.
SETUP TIME: None.
---