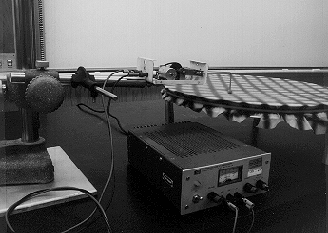 G4-13: DRUM HEAD STANDING WAVES
PURPOSE: Demonstrate standing waves in a circular membrane.
DESCRIPTION: A ripple tank vibrator is used to create standing waves in a circular rubber membrane. Adjusting the frequency changes the standing wave pattern.
SUGGESTIONS:
REFERENCES: (PIRA 3D40.40)
EQUIPMENT: Ripple tank wave generator with power supply, rubber membrane on hoop from Demonstration P1-11 CURVATURE OF SPACE.
SETUP TIME: 5 min.
---