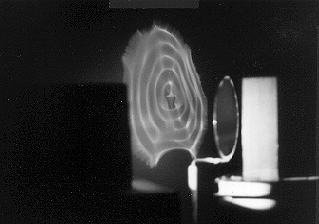 G4-12: STANDING WAVES ON A SOAP FILM
PURPOSE: To demonstrate standing waves in a circular membrane.
DESCRIPTION: A circular wire loop holds a soap film which is positioned in front of a loudspeaker (the rectangular box to the right of the soap film). It is illuminated by a bright point source which casts a reflected pattern on the screen as shown in the photograph. A sine-wave oscillator attached to the speaker can be tuned to obtain various standing wave patterns, which are defined by the bright lines in the reflected light.
SUGGESTIONS:
REFERENCES: (PIRA 3B22.70) See AV list for film loops dealing with vibrations of a circular membrane.
EQUIPMENT: Point source, soap film ring with soap solution, oscillator and speaker.
SETUP TIME: 5 min.
---