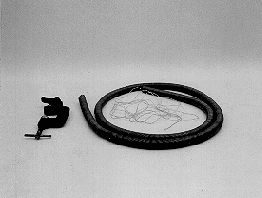 G3-23: TRANSVERSE WAVES ON A LONG SPRING - FREE END
PURPOSE: To show reflections at a free end.
DESCRIPTION: A string holds one end of the long tight spring to the clamp on the lecture table. Because the string is long, and light compared to the spring, this forms a free end for the spring, allowing the end of the spring moves when a wave approaches.
SUGGESTIONS:
REFERENCES: (PIRA unavailable.)
EQUIPMENT: Long tight spring with string at one end with clamp.
SETUP TIME: None.
---