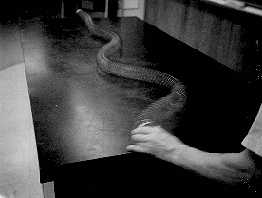 G3-24: SLINKY ON LECTURE TABLE - TRAVELING WAVES
PURPOSE: To show travelling waves.
DESCRIPTION: One end of the SLINKY is taped to the lecture table while theother end is free to move for creating waves. For best waves do not overextend the SLINKY.
SUGGESTIONS:
REFERENCES: (PIRA 3B10.20)
EQUIPMENT: Long SLINKY and masking tape.
SETUP TIME: None.
---