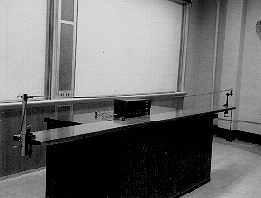 G3-22: VELOCITY OF TRANSVERSE WAVE ALONG A ROPE.
PURPOSE: To measure roughly the velocity of a transverse pulse in a stretched rubber rope.
DESCRIPTION: A pulse is started at one end of the stretched rubber rope and allowed to reflect back and forth several times, during which the time interval is measured and displayed by a mechanically controlled electronic timer. The wave velocity can be calculated. A variety of weights is available to vary the tension in the rope.
SUGGESTIONS:
REFERENCES: (PIRA 3B10.10)
EQUIPMENT: 12 foot board, stretched rubber rope, 2 mounts, electronic timer, weight hanger with weights with 1, 2, and 5 kilogram weights.
SETUP TIME: 5 min.
---