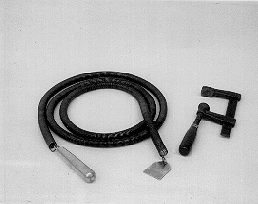 G3-21: TRANSVERSE WAVES ON A LONG SPRING
PURPOSE: To demonstrate transverse waves.
DESCRIPTION: Clamp the spring to the lecture table and hold the other end with some tension. Shake the end with various frequencies to illustrate transverse waves.
SUGGESTIONS:
REFERENCES: (PIRA 3B10.10, 3B25.26)
EQUIPMENT: Long tight spring with handle and clamping plate, clamp.
SETUP TIME: None.
---