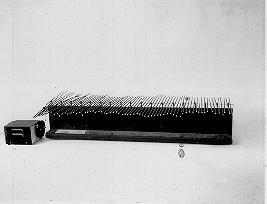 G3-11: SHIVE WAVE MACHINE - RESONANCE ABSORPTION
PURPOSE: To demonstrate resonance absorption of wave energy by a mass-on-spring system.
DESCRIPTION: Sending waves along the machine drives the spring-mass attached to one of the crossarms. The greatest effect will be at the resonant frequency for the mass on the spring. A well chosen driving frequency will result in almost complete absorption of the wave.
SUGGESTIONS: See Demonstration Reference File for sample data.
REFERENCES: (PIRA 3B22.30)See Demonstration Reference File for further information and experiments.
EQUIPMENT: Shive Wave Machine, 2 brass crossarm counterweights, spring, masses, and wave generator.
SETUP TIME: None.
---