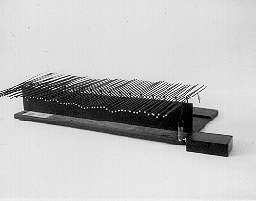 G3-06: SHIVE WAVE MACHINE - IMPEDANCE MATCHING
PURPOSE: To show that no reflection occurs when the impedance of the load (dashpot) matches the impedance of the wave machine.
DESCRIPTION: Adjust the impedance of the dashpot to eliminate any partial reflection of the incoming wave. The impedance of the dashpot can be changed by (1) adjusting the resistance of the air chamber, or (2) sliding the connection along a spine.
SUGGESTIONS:
REFERENCES: (PIRA 3B22.30)See Demonstration Reference File for further information and experiments.
EQUIPMENT: Shive Wave Machine with dashpot.
SETUP TIME: None.
---