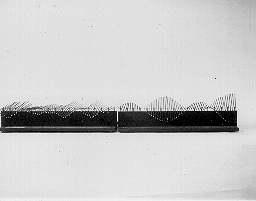 G3-05: SHIVE WAVE MACHINE - PARTIAL REFLECTIONS
PURPOSE: To show that a wave will be partially reflected at a point where the impedance changes.
DESCRIPTION: Partial reflection can be produced by (1) linking the two different segments as shown in the photograph, (2) adding weights to the end of a central crossarm to produce an impedance glitch, or (3) attaching the dashpot at a central location and adjusting it for partial absorption of the incoming wave.
SUGGESTIONS:
REFERENCES: (PIRA 3B22.30)See Demonstration Reference File for further information and experiments.
EQUIPMENT: Two connected segments of the Shive Wave Machine; dashpot for end if desired.
SETUP TIME: None.
---