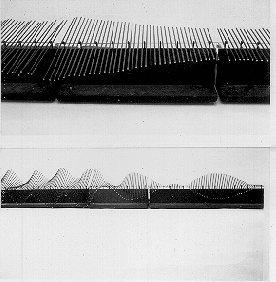 G3-07: SHIVE WAVE MACHINE - TAPERED TRANSFORMER
PURPOSE: Useful for obtaining a reasonably good impedance match between the two large segments of the Shive machine.
DESCRIPTION: Connect the tapered transformer between the two large wave machine segments. Inserting this reduces the impedance mismatch and allows the wave to pass from one medium into the other with minimal reflection.
SUGGESTIONS:
REFERENCES: (PIRA 3B22.30)See Demonstration Reference File for further information and experiments.
EQUIPMENT: Two large segments of Shive Wave Machine with tapered transformer.
SETUP TIME: None.
---