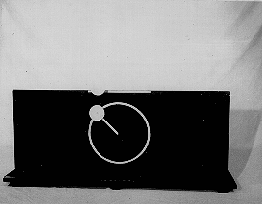 G1-11: COMPARISON OF SHM AND UCM
PURPOSE: To demonstrate the relationship between uniform circular motion and simple harmonic motion.
DESCRIPTION: Turning a crank on the rear of the apparatus causes the center ball to move in circular motion while the ball on top executes simple harmonic motion. It can be seen that SHM is the projection of UCM. This device can also be used to discuss the concept of degrees of motion in SHM by comparison with the reference circle.
SUGGESTIONS:
REFERENCES: (PIRA 3A40.00)
EQUIPMENT: As photographed.
SETUP TIME: None.
---